Not art related. Been so busy, still haven't gotten in the studio all week. I did sort all the new fabric and other bits and bobs that I've brought home in the last few weeks, piled it all into a box, and tossed it into the studio earlier, so I could clear the table off for the witches' tea I'm hosting over on my other blog today. It's one of the many stops in Vanessa's Hauntingly Magical Halloween Party. Make sure you pop on over to
Beach Treasure
for a witchy cuppa, and then continue on to
Vanessa's link
to visit all the other party bloggers. As soon as I'm finished posting here, I'm off to the party myself! (well, not really, I'm really off to bed and then, the minute I wake up, off to the party!)
So, only peripherally art related - but tea related is good. And since the last tea cozy I made was a
Halloween tea cozy
, this is connected to that - six degrees to Halloween, yes?
Last night I made a pot of tea for Hubby and I. I found this English tea pot on a sale table at an antique shop in La Mesa, CA. It was a lovely day rambling with my family. I love when there's a story connected to the things we have in our home. Anyway.... moving on with the story -
I stopped at a new thrift shop in town a few days ago and found something they had labeled a "toaster cover". It was 75 cents. I didn't think it was a toaster cover. I bought it, brought it home, tried to fit it over my very tiny toaster - nope. I knew it.
It was a tea cozy! A very fancy one! One of those that fits over the top and must be removed in order to pour the tea. I've been curious about this kind of cozy for ages. Do they keep the tea warm even though they don't have a bottom? Do they get steam up inside them? Well, I'm happy to report that the steam didn't seem to be a problem and it kept the tea incredibly hot for a very long time. I might be sold on this style. At least, this particular cozy, which is VERY heavily padded.
Slightly more art related, I stumbled upon these adorable art posters online, advertising regularly scheduled tea parties.


Not a witches' tea, but a Gothic Tea. I love this one, wish I could have a copy of it to hang.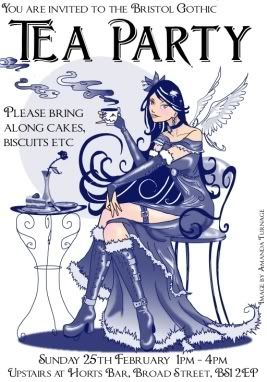 Or this one. Love it too. And notice that these are offered year round, not just in October. This last one is in February. I want to go to a Gothic Tea Party! We never have anything cool like this here in town. I'm definitely going to have to get organized enough to hostess one myself. Right after I have a Witches' Tea and a Faery Tea and a Gypsy Tea and... I've got a long list of parties I want to have. Hmmmm, maybe I should start a tea club first, so I'll have people to attend the teas.
One more. Clever, clever posters.
Now, I'm off to bed. And hopefully you're off to visit more Halloween party links. I'm hoping to spend the day (after I wake back up over here) alternating visiting party folk and FINALLY playing in the studio. Knock on wood.